Last month, boutique hotel Mira Moon opened its doors, boasting characteristic rooms with quirky names, secret gardens sunk deep in neighbouring skyscrapers and staff who strut about in designer uniforms and undergo makeovers by professional artists and nail stylists before every shift.
While seemingly a 180-degree change from the previous cookie-cutter model of luxury and exclusivity – such as the likes of The Four Seasons, Grand Hyatt or even W Hotel – the decreasing age of travellers in the region calls for these "alternative hotels", which is why it's OK for a "secret garden" to be jailed among water pipes, exhaust systems and air conditioners with just a small square of blue sky above.
"The Lehman Brothers bankruptcy was a good time for boutique hotels because every company was cutting budgets, and people found value for this new sector. So while a lot of our clients are fashion fans, interior designers and architects, a lot of our visitors are young city goers who want to be surprised," says general manager of Mira Moon Henry Maillet, who adds the lack of space is actually a key element in boutique hotels.
Yet, this demand for designer hotels is only one of the changes in the travel market.
On a larger scale, budget airlines and the rise of the middle class have evolved the traveller from the traditional luxury seeker, and as such, have not only revolutionised hotels, but have also changed the guest experience all the way starting from research.
So Maillet's take? He says the new Wan Chai establishment has close to zero budget for marketing, but rather focuses on on-site client experience.
"Our key to success is friendship: people are always looking for contact, so we invite guests to our brainstorming sessions; and we encourage our front desk staff to buy customers coffee and actually sit down to have a conversation with them," he says.
"Boutique hotels are a hit or miss: people either hate it or love it. So what we try to do is create something so even if our guests didn't like our designs, they'll like the other details we've put in to make their stay as personable as possible."
InterContinental Group, which owns the likes of InterContinental, Crowne Plaza, Hotel Indigo and Holiday Inn, for example, is reacting by expanding existing popular brands to make them culturally relevant to Asia: such as investing
more into Holiday Express, a simplifi ed version of Holiday Inn.
For China, where cross-generation family travels are more popular, the group has further set up larger and more remote resorts completed with Kids Club; for Hong Kong, however, IHG cut the ribbon to the fi rst Hotel Indigo in late October a few blocks down from Mira Moon.
There's no such thing as different types of travellers anymore.
Karin Sheppard, chief commercial officer of sales and marketing at InterContinental Hotels Group in Asia
"Holiday Express speaks to the people who are just looking for location, internet, a bed and the guarantee from a global brand; resorts offer a more comfortable and relaxed environment for bigger groups; and Indigo is more intimate with a great restaurant, cool bar and a lot of travel-friendly services for our guests to explore the neighbourhood," says Karin Sheppard, chief commercial officer of sales and marketing at InterContinental Hotels Group in Asia, Middle East and Africa.
"There's no such thing as different types of travellers anymore; rather, it's targeting travellers when they have different needs and different occasions. For example, when they're travelling with a company versus solo versus with family."
Though travel is an international endeavour, Sheppard says people in Asia Pacifi c were still predominantly confi ned to the domestic space: 90% of the Chinese population, for example, only likes to get around in The Mainland.
"That being said, we still keep a close eye on local insights. In other countries, for example, a segment called the invisible traveller – whereby they don't want to be recognised or even noticed – is emerging, and we need to cater to them and map them against the brands that we offer."
Cheryl Yue, executive assistant manager of sales and marketing at W Hong Kong, agrees, adding her hotel mainly speaks to the kind of customers who are looking for luxury as well as trendiness and an element of avant-garde the hotel tries to instil through its artist collaborations, DJ parties and fashionable bars.
"Starwood Hotels has a number of hotels under our umbrella that cater to the different audiences: there's no one-size-fits-all, but it's about talking to the right audience and having your brand ready at the right time," she says, adding that although W Hotel is a hip outlet, she still keeps the attributes of a luxury hotel in place.
"For example, we'll remember whether the customer likes hard or soft pillows or mattresses, or whether customers prefer our cleaners to take off their shoes when they're tidying their rooms." Hotels, however, are not the only ones moving with these macro trends; another industry that has blossomed from the rise of "alternative travellers" is the online travel agency (OTA).
Hotels.com – the hotel-focused branch of Expedia, for example – has doubled its mobile business since it first launched its mobile site in 2011, which is now responsible for 20% of global sales.
To further prove its foresight into mobile, the digital hub has been pumping out a series of online videos to promote its third-screen offerings for the past three years – all of which show stunt men playing extreme sports such as skydiving (2011), bull-running (2012) and white water rafting (2013) while booking a hotel on their phones.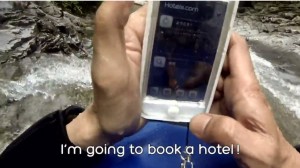 Hotels.com's senior director of mobile marketing Daniel Craig says the trend of booking on the third screen is derived not only from the rising population of the young, but also an increasing tendency for last-minute bookings, which account for more than 70% of the current bookings.
"Aside from the commercials, we need to optimise our mobile offerings, whether in exclusive mobile deals or exclusive last-minute deals, user-friendliness, loyalty schemes or post-booking services such as providing a map or having all the information sent to the mobile customer after they swipe their card," he says, adding his website rides on the tendency to defragment travel plans: so instead of packaging hotel-airline into one bundle such as traditional travel agencies, consumers are picking out the best deal from every process.
"As low-cost carriers are getting cheaper, what we see is that guests are breaking up the conventional convenient packages to be even more cost-saving, which is precisely where Hotels.com comes in."
Zuji Hong Kong CEO Charlie Wong, another OTA which celebrates its 10th anniversary in Hong Kong this year, says the growth of his business correlates to the "maturity of travellers".
"In the 1980s to 1990s, people travelled with tour groups; then the millennium brought more mature travellers who can make their own itineraries, but most still consulted with traditional agencies or are attracted to a destination via an ad from these agencies."
Though Wong says the millennial travellers are already very online savvy, the bulk of Zuji's marketing strategy is to attract the 35 to 45-yearold segment who won't break out of the traditional model, which is mainly why it implemented a call centre for advising clients and validating their travel choices.
"We employ a hybrid model and call ourselves an in-line agency rather than just online," he says, adding that Hong Kongers' busy lives are gearing them towards a 24/7 online service that allows for instant confirmation rather than obliging (them to visit during) opening hours.
"Our selling point is our content desk: we're talking to travellers who want the option of looking and comparing 800 airlines and more than 10,000 hotels.
"We can give them a lot of recommendations whether they know or don't know what they want."