The majority of people will buy gift vouchers instead of actual gifts, according to a survey conducted by Hong Kong's largest shopping mall, Harbour City. In response to that, Harbour City will launch the first prepaid gift card among Hong Kong shopping malls in July.
To study the gift culture of Hong Kong, Harbour City has carried out an online survey with over 1,800 responses. Findings show nearly 60% of people need to give gifts over 5 times a year. On average, nearly 80% spend HK$1,000 or less each time but more than 20% spend over HK$1,000 for one gift.
Nearly 70% of people feel pressured or puzzled when choosing gifts. Despite everyone spending so much time and effort in choosing gifts, over 90% of people have received an unwanted one. And over 40% will pretend to be happy and accept the gift.
The survey result also shows that nearly 70% of people will buy gift vouchers instead so that receivers can choose their own gift. Gift vouchers from supermarkets and department stores are regarded as more practical yet common, which cannot show much sincerity. Some brands or shops have their own gift vouchers, but the selection of merchandise is comparatively limited.
Answering the market need, Harbour City will launch the first prepaid gift card which applicable at over 500 stores in the mall. 4 types of value are available (HK$500, HK$2,000, HK$5,000 and HK$8,000). The contemporary and fashionable design of the gift card shows its uniqueness, and it comes with a message card. Harbour City Gift Card will be available for sale from 5 July at shopping mall gift cards sales counter.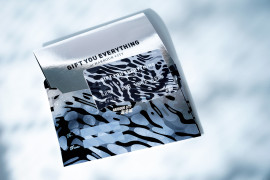 "With Harbour City Gift Card, the giver can release the pressure of choosing the ideal gift and card receivers can also select whatever they desire at our mall," said Yen Leng, Executive Director of Wharf Real Estate Investment Company Ltd.
She added, "Riding on our Gift Card launch, we will organize different kinds of sales promotions to bring more business opportunities to our tenants. We also hope to further enhance the branding of Harbour City for a win-win result of all parties."
From 5 July to 26 August, Harbour City will collaborate with UnionPay for Summer promotion campaign with a total of HK$600,000 Gift Cards for one of the sales redemption rewards. The promotion details as well as gift card sales arrangement will be announced later on Harbour City website.