Employers, beware! A majority of marketing professionals across Asia Pacific will be searching for new job opportunities in the New Year, said specialist recruitment firm Font.
Come early 2016, 57% of professionals across the marketing, digital and creative sector said they plan to leave their current job. The number was at 42% last year. Also in last year's survey, 63%of marketing professionals stated they would be reevaluating their career plans over the beak. This year, the percentage has risen to 74%.
"From an employment perspective, it is worrying that such a high number of marketing professional are planning to job hop in the New Year. This reiterates a very real need for employers to focus on their long-term retention efforts, and for talent to speak up to their managers about their career goals and direction," Jacqui Barratt, director at Font said.
She added the increase in movement is possibly due to the heightened expectations and the constant evolving and disruptive nature in the digital and e-commerce space.
Local talent said the main reason for wanting a new role is the desire for better pay and benefits (32%), followed by more professional development opportunities (23%) and fewer long working hours (20%).
Barratt added that typically there is an increased movement of talent at the year-end and around Chinese New Year, as this is both a time for evaluating their careers and really thinking about what they want. Also this is when many receive (or dont'!) bonuses and salary increments.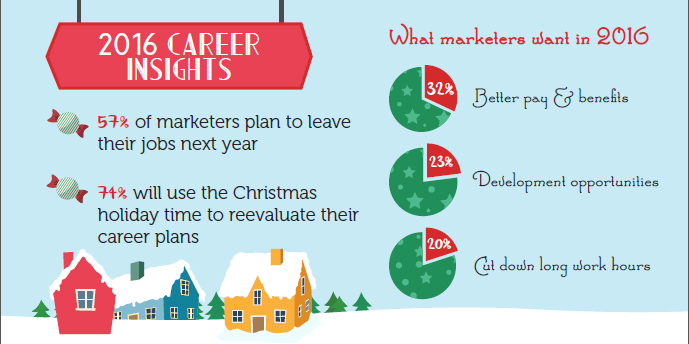 "Good talent are always in demand and have numerous options. However, these options may be driven more by money or go deeper, such as a desire for more professional development opportunities or a more flexible work culture. Talent are very much in the driver's seat to find employers who can meet those needs," she added.
While fixing job dissatisfaction requires a long-term strategy, the study revealed talent could be perked up over the Christmas period with company gifts such as cash (36%), a nice Christmas meal on the company (27%) or an extra day off (22%).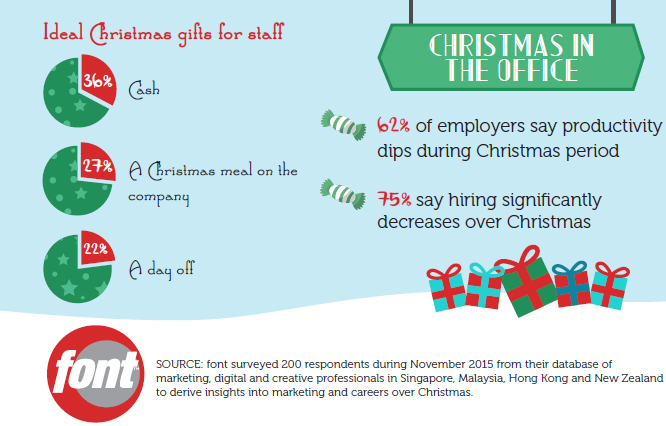 These insights are derived from a study conducted by specialist recruiter font talent, which surveyed industry professionals across Hong Kong, Malaysia, New Zealand and Singapore.