Marketing automation is deemed the third most popular technology among marketers this year, with over one-third (37%) of company respondents and 39% of agency respondents viewing it as a priority, the State of Email and Marketing Automation in Southeast Asia report found.
To find out how marketers in the region are utilizing email marketing and automation, especially in the year ahead, Econsultancy partnered with IBM Marketing Cloud to survey over 500 client-side and agency-side respondents in Southeast Asia.
Marketing automation is only behind social and content marketing, who take the second and first place on marketers' priority list respectively, according to Jeff Rajeck, APAC Research Analyst for Econsultancy, who wrote in a blog post.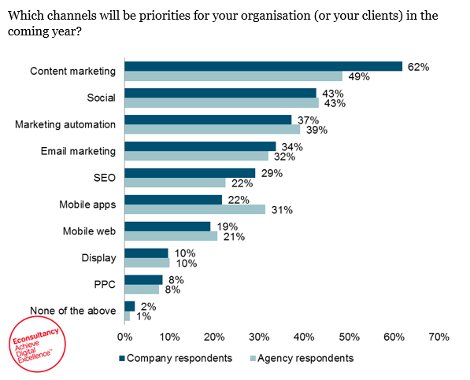 Following this rise in priority, the survey also found that most investments will go into marketing automation technology in 2016, according to almost one in three respondents – 31% of company respondents and 34% from agencies.
It is no surprise that marketing automation has taken a great priority to marketers, since it aligns with current marketing opportunities in the region. Multichannel campaign management was singled out as the most important opportunity in digital marketing by organizations (24%) and agencies (25%) currently.
Customer experience was next, chosen by 18% of company respondents and 16% of agency respondents.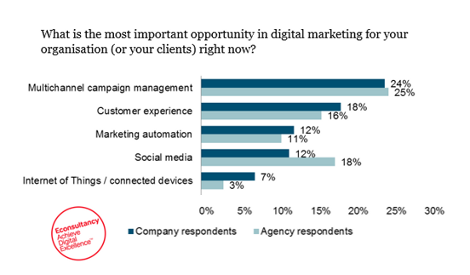 As Rajeck writes, these two opportunities are easy to tap into with the help of marketing automation. Strong back-end automation help easier managing of multichannel campaigns, and customer experiences can be improved when marketing touch points are automated and improved along with data feedback.
"Successful  marketing automation programmes can bring efficiency and coherence to marketing campaigns, but there are plenty of barriers to overcome when it comes to integration. Companies are dealing with legacy systems, or multiple data management systems which do not match up or provide a clear single customer view," said Jefry Gomez, managing director, Asia Pacific at Econsultancy.
The importance of marketing automation was also evident as it was in the top 3 most important digital marketing opportunities, according to Rajeck.
However, the use of marketing automation is still faced with many barriers. When asked about the challenges with implementing effective marketing automation, over one-third of company respondents cited 'integrating data' as the largest barrier faced, and the response was corroborated by 30% of agency respondents.
Other than that, lack of skills came in closely as another barrier faced with automation strategies, with one-third (34%) of company respondents and even more (42%) agency respondents feeling this way.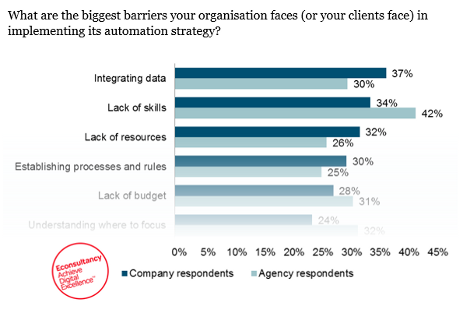 When asked specifically about effective email marketing, close to half of company respondents (47%) felt that the quality of email database was the biggest barrier, followed by poor measurement and analytics (34%).
Among agency respondents, about one in four agreed that quality of the email database was the greatest challenge, and lack of skills and training was a close second.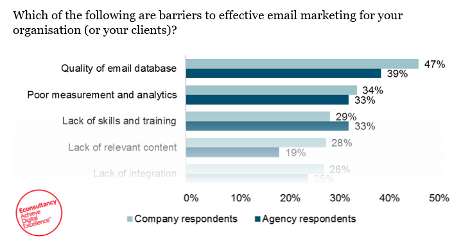 A pattern observed by Rajeck was that companies are more concerned with achieving better data management, while the agencies are worried about their skills gap in email and marketing automation programmes.
Challenges with integrating data and the quality of email databases are evident as only one in four companies (26%) and one in six of agency clients have a unified database that is essential for marketing automation processes. It is no wonder why adoption rates for marketing automation are relatively low right now.
In fact, while email marketing is rather prevalent among companies today, about 63% of company respondents and 67% of agencies still find that their email campaigns are doing 'average' in terms of return of investments (ROI).
Out of all the respondents, only 29% of company and 55% of agency respondents find that their ROI from email marketing was either 'good' or 'excellent'.
"With marketers planning to place more focus on marketing automation in 2016, we should hopefully start to see wider adoption of systematized email and marketing automation," Gomez said.